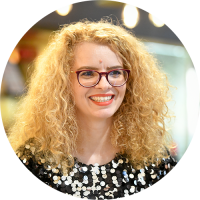 Luminita Potorac-Roman
Managing Director
15 years of expertise in HR – Sales & Marketing strategy, Business Development, Executive Search, Recruitment & Selection, Talent & Market Mapping, Talent management & Succession planning, Employee Development Plans, Outplacement, Employee Relations, Legal Affairs, E-Recruitment/ATS. Industries covered: Retail & FMCG, Banking & Insurance, Industrial/Manufacturing,Outsourcing, Telecommunications & IT.

Senior Consultant
We are hiring a Senior Consultant with 10+ years HR generalist experience. If you love developing Executive search projects for various management roles, Talent Management projects or Trainings across all industries and functions, we are the most suitable team for you. Fun and open-hearted, flexibility, efficiency and high ethical standards are just the extras we'd love to find.
Curious to know better how we may help you? We'd love to have you over for a nice cup. Get in touch and we'll arrange just that. Want to join our team? Be sure that you've checked our open positions above, or send us your application.