Hatwit was born out of a passionate commitment to build a company bringing most dedicated people and teams together, for the greater achievements. Seekers of the naturally open and humane values, we are believers of the fresh and the original, in action beyond the industry status quo. We are ambitious searchers of the utmost results and love the exploration. So where does our name come from? Two words juxtaposed are our magical formula that says simply who we are: Hat + Wit. 
HAT: this humble ubiquitous item has the perfect richness of telling what we do. We all have jobs and responsibilities, or better said 'hats to fill' and it's our drive to find the best fit for each of them.
WIT is our perfect noun saying how we always seek to do it all. Its definition says it best: "inventive thought and quick understanding; a natural aptitude for using words and ideas in a quick and inventive way to create humour". Or in our own words: being smartly agile, while being ourselves.
Luminita Potorac-Roman
Founder & Managing Director
Managing Partner IMSA Romania, IMSA Search Global Partners
I am an entrepreneur and a passionate HR professional, continuous seeker of personal and professional growth, a long-term relationships builder. Mother of two great kids, I enjoy running and love discovering the world.
My 19 years of experience so far were developed in the Legal, HR and Business Development. I began my career as a Legal Counsellor following my graduation in Master's Degree of Laws. After a couple of years within the Legal field, working mostly with Labour and social security laws, I discovered  HR. And this was the spark that built the fireworks. I started to learn intensely and decided to pursue a career in the HR field. I kicked off the journey by joining the HR departments in service, retail and production companies, and continued my studies with a French-Romanian Finance MBA (Conservatoire des Arts et Metiers, Paris and Academy of Economic Studies, Bucharest) prior to joining the Executive Search industry in 2008.
Almost 10 years after, on October 17, 2017, I set up Hatwit, Executive Search & Talent Management firm, with the outmost belief that commitment, high integrity, quality, efficiency and creativity in delivering what we promise to, will be our top hat as an HR Trusted Advisor. Now, 4 years after, our clients portfolio grew, and we expand as IMSA Romania together with IMSA Search Global Partners – top 40 Executive Search firms worldwide. Also, through the alliance with Interact Romania, we undergo E2E HR strategic projects.

And about us as a Team.
We are passionate Recruiters, with core areas of expertise in Executive Search & HR Consulting for senior and top management level, across a wide range of industries, on the Romanian and regional European markets.
And we are unstoppable! We do not slow down until we place your perfect candidate.
Happy to let my colleagues further introduce themselves…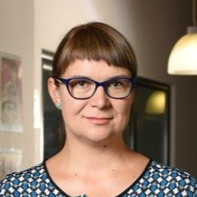 Maria Predoiu
Principal, Executive Leadership Hatwit
Edtech entrepreneur & Business leader, with 20 years of experience in managing complex businesses and organizations, focused on clear strategy, exceptional results and people growth. Lead the marketing operations for P&G South East Europe multimarket/ multi-brand business close to US$1bln, driving one of the highest growth rates in Europe in terms of sales, profit and penetration. Grew capabilities and led career development for 70+ talents while merging 2 distinct organizations. Lead the Marketing & Communications Industry in Romania through IAA Presidency, impacting legislation, talents education, industry standards, while doubling IAA revenues in just 2 years. Edtech entrepreneur for 5 years, leading corporate capabilities development programs and gamified learning experiences for children.
Maria is fluent in Romanian (native), and English.

Curious to know better how we may help you? We'd love to have you over for a nice cup. Get in touch and we'll arrange just that. Want to join our team? Be sure that you've checked our open positions above, or send us your application.